Are you having trouble collecting your past due accounts?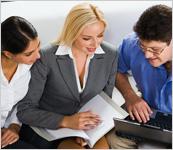 If you're looking for high quality and personal collection services, you've come to the right place. At ABC Collectors, Inc. we give you the attention and personal service you deserve.
We offer the best in collections. Our rates are competitive, with no hidden fees. Our employees are friendly and will be there to answer any questions you may have.
We handle all types of collection accounts including:
Medical
NSF Checks
Retail
Rentals
Judgments
Why should I choose ABC Collectors, Inc.?
We're attorney owned and operated. This means we have the ability to pursue legal action quickly and efficiently when needed. We're not afraid to go to bat for you in court on difficult collection issues.
We're a local business – every employee lives in the Flathead Valley. We know the area well, and we know how to yield the best return on your past due accounts.
We work harder than the competition. As a local business, our success depends on our reputation, and that means giving our clients the best service and the best rate of recovery. We're not a large operation with statewide or national locations that relies on volume – we rely on the quality of our work and our attention to detail that larger collection agencies can't match.
We work on contingency, which means we only get paid once you get paid. This ensures that we'll work hard to collect on your past due accounts.
We have the best up to date software and skip tracing programs. We have excellent success in tracking down debtors so that we can recover on your accounts.
We have a friendly staff that is always available to answer your questions. Contact us at any time to inquire about the status of your accounts.